Mobilephone lock S200NFC
(Hits:0)
description
function
parameter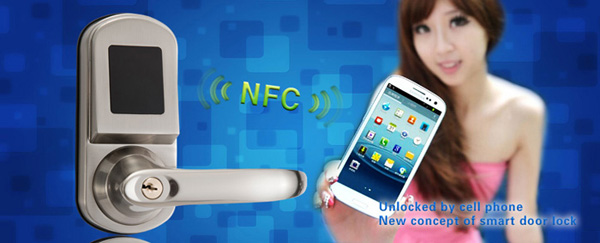 Advantages
1.Effective management: Room booking online, Pay online, Authorized code access online,
all be done by smart phone
2.Low cost operation: No need registration on the scene, no cards and even staffs,
which saves a lot of cost.
3.Easy installation & Competitive price: Can replace knob lock, no need extra hole drilling.

4.Humanized design, free rotating structure, waterproof, anti-skidding, solid and artistic

Item NO.: S200NFC Size: 154*68*78mm Material: Zinc alloy Weight: 2.5KG
5.Antimoist, Antidust And Antistatic
Put the rubber gasket when install the front paneland back panel, to protect the lock body
and extendthe lock life span.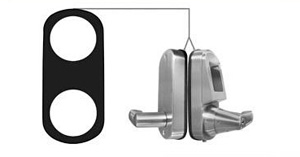 6.Dissociative Structure Of NFC Lock
The handle turns dissociative when door is locked, to decrease damage caused to the lock
body from outside force, and also avoids special tools go into the door to push the handle open
7.Unlocking ways
By smart phone, smart card or mechanical key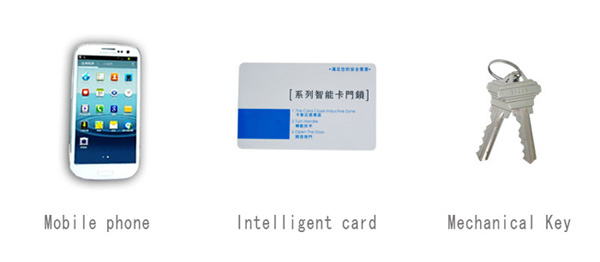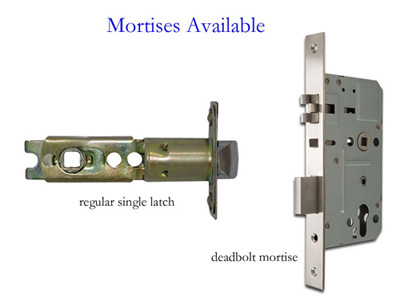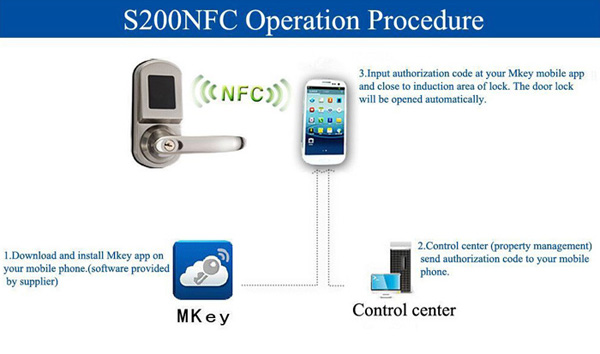 8.Control Panel
①.brand chips,Ensure low energy consumption and durable。
②.Independent research and development, system upgrade is stable, provide users with secondary
development technical services
③.Three defenses (mildewproof,bacteria,moistureproof)closed treatment, to ensure
stable performance.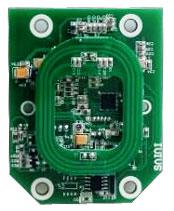 9.S200NFC smart phone lock is not only convenient for people living, but also focus on security.
There are features below to make you use the lock without concern.
★Unlocking by smart phone authority
★Hold the smart phone with authorized code to open lock
★Each authorized code is different, randomly generated, not repeated.
★Authorized code can't unlock when the specific time is over

★No connection with software
★Modern hotel management model in the Internet age
Working principle
The NFC Android smart phone receives authorized code that is remotely sent short
message, email and other ways. The authorized code is encrypted with lock number
(room number), opening times, valid time such information. Installed the Mkey App in
smart phone, when open the App and get the authorized code, hold the smart phone to
the inductive area of the lock, the lock can be opened if the authorized code confirmed
right. To use manage information send to smart phone App user, use smart phone NFC
or Bluetooth telecommunication function to control the lock technology.
Application
Hotel, Apartment, Office, Home
Installation Requirement
1. Installation: Remove knob lock from old door and install the new lock directly, easy and
convenient. Just a hole drilling for a new door.
2. Smart phone: The system includes NFC door lock, authorization NFC smart phone, customer
NFC smart phone,smart card(optional)and software, NFC smart phone must be Android 4.0 and
above system.
Specification
Power Supply: DC6V (4pcs AA batteries)
Unlock way: Mifare-1 card/ NTG card, NFC mobile phone
Smart phone type: NFC smart phone Android 4.0 or above version
Inductive distance: 10-30mm
Opening time: The lock will be automatically locked after opening door once,
or locked again in 5 seconds if the door is not opened.
Battery Life: 1 year in normal status, provide 20,000 openings
Working temperature: -30 ~ 80℃
Working humidity: 15-95%RH
Static current:≤50uA.
working current: ≤200mA
Online Inquiry
| | |
| --- | --- |
| * name | please fill in your real name |
| companyName | please fill in the name of your company |
| tel | |
| * mobile | Please fill in your contact number |
| *email | |
| address | |
| * Purchase intention describe | |
| | Please Write procureThe product quantity and product description |
| | |